F-ONE STIG
FREERIDE / PERFORMANCE
Kitesurfing / Hydrofoil / Foil Boards
STIG
The STIG foilboards are custom shaped and built to provide an exhilarating experience while foiling.
Great Stability and Control
Performance Shape
Custom Bamboo Construction
Ref. 77208-0201
Inspired from the racing templates, the shape of the STIG features an improved volume distribution to facilitate take-off even in marginal conditions. The outline is compact to limit the swing weight while the boards offer great directional stability. The rails are heavily bevelled to make the touch-downs smoother. The deck is completely flat for optimal control of the board trim… You've got it: the STIG is a all-out and modern foilboard designed to improve your foiling time on the water. Its shape provides a lot of volume which will make the difference when getting on the foil, especially in light winds.
Built with a bamboo sandwich laminate over a lightweight EPS core, these boards are fitted large deck pad for total comfort, and they come with a track system on the bottom to match any foil equipped with a 4-bolt top plate.
Coming in two sizes to fit the larger and smaller riders, the STIG wants only one thing: take it out for a spin !
TWIN-TRACKS
The twin track system with lateral spacing of 90mm is becoming an industry standard.
This system is compatible with all foils featuring a top plate with 4 fastening bolts. The length of the tracks enables some room to adjust the position of the foil on the board to reach everyone's prefered balance.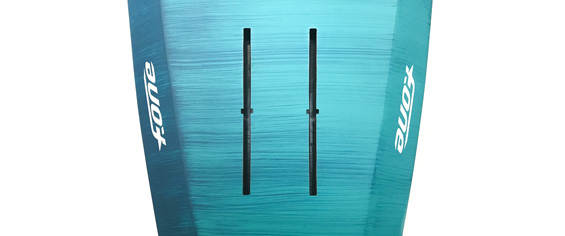 FULL BAMBOO CONSTRUCTION
Bamboo fibers are highly resistant and really light. The FULL BAMBOO construction uses natural properties of bamboo veneers placed between fiberglass layers to create a strong, durable, light shell for the entire board (deck and bottom).
Foilboard Equipment
INCLUDED EQUIPMENT
FULL PADS
INSERTS FOR 3 FOOT STRAPS
F-ONE FOIL STRAPS (OPTIONAL)
SIZE        144         148
DIMENSIONS (cm)           144 X 46                148 X 49
VOLUME (l)        28.5        31.2
WEIGHT (kg)*    3.05        3.15
*indicative value, subject to small variations due to the custom manufacturing process.
KitesurfDubai.ae is the leading F-one dealer based in Dubai and shipping worldwide.
Shop online for  F-One Inflatable and Foil Kites, Boards, Hydrofoils and accessories. The FOne kite range includes the Bandit and Diablo Kites, as well as the Trax, Acid, Spicy, Unik and Next Kiteboards.  Breeze and FOne Bandit are also available for worldwide deliveries. Free shipping on all F-One Kites, Boards and Bars in the UAE. Free worldwide shipping on F-One Kites and Bars. Reduced shipping rates for F-One Kiteboards to Qatar, Bahrain, Oman, Saudi Arabia, Kuwait, Lebanon, Egypt.