OZONE ALPHA V2 KITESURFING KITE
A WINNER FOR ANY QUIVER
SIZES
4 / 6 / 8 / 10 / 12 / 14 / 16
Performance single strut design
Freeride, hydro-foil and travel specialist
Incredibly light weight
New design technology
THE ALPHA IS OUR PERFORMANCE SINGLE STRUT INFLATABLE KITE. IT'S SIMPLE, INCREDIBLY LIGHTWEIGHT AND VERY EFFECTIVE – IT IS A WINNER FOR ANY QUIVER.
Free Ride  Performance
Performance single strut design

Freeride, hydro-foil and travel specialist

Incredibly light weight

New design technology
The second version offers amazing free ride and hydro-foiling performance for intermediate to advanced riders while the lightweight single strut design is perfect for travelers looking to save on excess weight and packing volum
All New Continuous Curve Leading Edge Construction
The Alpha V2 features our new Continuous Curve Leading Edge construction, each segment is now curved to form a perfect smooth arc from tip to tip as opposed to straight segments with angled joints.
Transversal Sail Shaping has been incorporated to perfectly match the new Continuous Curve Leading Edge. These latest design features reduce parasitic drag and create a cleaner surface at the most important area of the airfoil. The result is less turbulent airflow, which positively affects the lift to drag ratio increasing overall performance.
You will be Surprised
Grab a twin tip and go cruising or jumping, you will be surprised at the jumping and looping capabilities of the Alpha; it has smooth lift and hang-time with precise feedback.
Drift Style Wave Riding
In the surf the Alpha is perfect for drift style wave riding as it floats with you. The handling is direct and responsive which allows you to put the kite where you need it. The Alpha is not as dedicated to waves as the Reo, but it still delivers solid performance in cross-shore to on-shore conditions.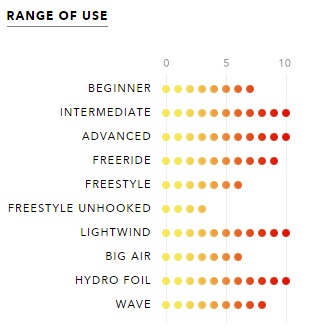 WIND RANGE: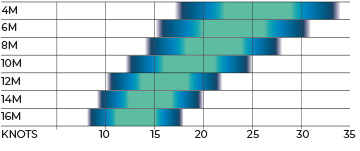 WIND RANGE HYDROFOIL: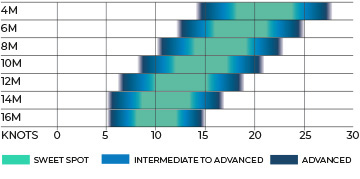 Wind range is indicative only based on an average rider weight of 80kg. Actual range will vary based on rider skill level and type of board used. Hydrofoil boards will dramatically increase the lower wind range.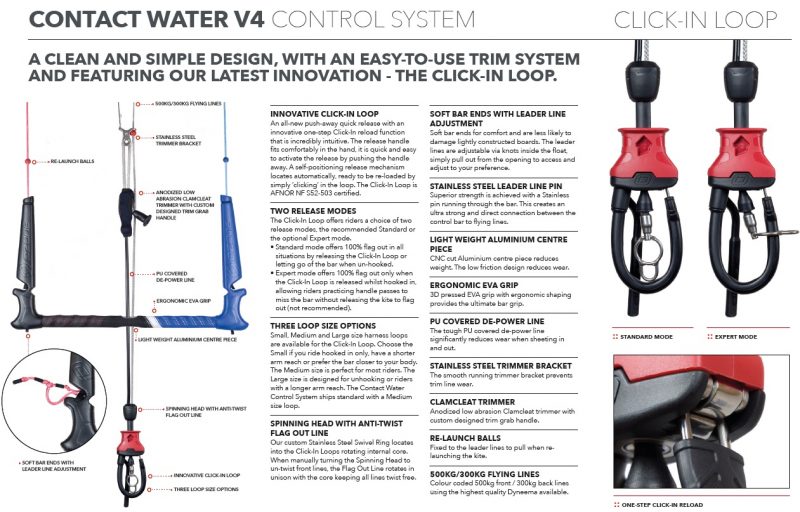 FEATURES
Exceptional Ozone Factory Construction
Designed With OZ-CAD
4-line Pulley-less System
Continuous Curve Leading Edge and Transverse Sail Shaping
Variable Bridle Geometry
Fast Flow One-Pump Inflation System
Internal reinforcements
Double Stitched Folded Seams
Load Distribution Panels
Direct Connect Struts
Reinforced Leading Edge and Struts
Reinforced Trailing Edge
Low profile aerodynamic Scuff Pads
Unique bladder construction
Anti-Snag Line Deflectors
Tuned Bridle Geometry
Fool proof line connectors
 KitesurfDubai.ae is the leading Ozone dealer based in Dubai and shipping worldwide.
Shop online for high performance and race foil kites, including Chrono and R1; trainer kites, including Octane, Quattro, Imp, DP and Ignition; as well as wide range of kites with inflatable leading edge, including C4, Catalyst, Reo, Zephyr, Enduro, Uno and Edge. Also available re-ride and race bars, line extensions and accessories.
Free shipping on all Ozone Kites in the UAE. Free worldwide shipping on most Ozone Kites and products. Reduced shipping rates for selected Ozone products to Qatar, Bahrain, Oman, Saudi Arabia, Kuwait, Lebanon, Egypt.