MIRAGE 1000 PLATE + ALU MAST
The F-ONE MIRAGE 1000 kitefoil wing is made to suit all freeride and freestyle needs.
Extremely easy to control, this wing offers smooth take-offs, effortless turns and fantastic stability.
Suits all freeride and freestyle needs
Smooth take-offs, effortless turns and fantastic stability
Plenty of control and total maneuverability
Flatter in the middle with tips accurately arched down the three wings share a similar arch profile which provides plenty of control and total maneuverability. Their aspect ratio is compact, providing more freedom in all maneuvers. They also have a refined twist distribution which not only helps with the glide but also make the power of the wing more manageable when carving lines.
To maintain optimal control, we build these wings in carbon pre-preg. And the larger sizes also have a foam core to keep them light. All sizes share the same metal insert with the FCD connector fully machined via CNC for a strong and perfect assembly.
The MIRAGE wings fit all 2018 F-ONE foils, and also previous versions. All perfectly balanced, the MIRAGE wings are very accessible to any skill level with the larger sizes and will impress the most advanced riders with the smaller sizes.
They are perfect for anyone who likes to cruise and carve some lines on their foil.
Area      1000 cm²
Aspect ratio        4.4
Weight 1.05 kg
TITAN CONNECTION
The TITAN connection enables a very stiff and direct connection between two parts, locking efficiently any movement in all directions.
Its format is compact which is hydrodynamically friendly and very easy to use, assemble and disassemble.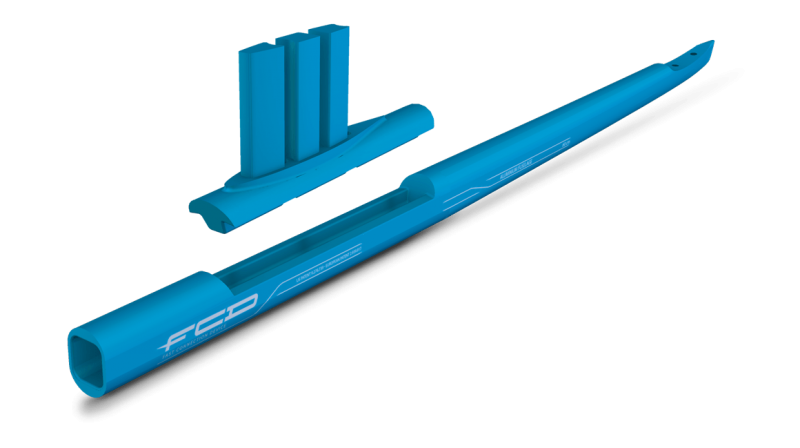 ALUMINIUM 6063 & 606
This aluminium alloy boasts some very good mechanical properties and can be processed in many different ways while also offering a natural resistance to corrosion.
Produced from an extrusion process, our aluminium profiles make the most of this homogeneous material to provide perfect stiffness both in torsion and bending. All areas in contact with other metals or carbon parts are duly isolated against galvanic reactions.
Machining blocks of aluminium 6061 guarantees the maximum accuracy and preserves the mechanical properties of this higher grade of aluminium. All parts are fully anodized and stainless steel inserts are fitted with isolating gel when fastening is required.
FCD
We have patented the FCD assembly concept because this is a critical aspect of the kitefoil. It drives the reliability and ease of use for assembling and taking the foil apart for transportation, as much as the repeatability of the trim between the front and rear wings.
The main benefit of the system lies in the main screw that maintains the front wing with the rest of the foil. This screw is placed longitudinally and is therefore only stressed in tension instead of shear or bending. The whole foil can be tightened up with everything working in a sound mechanical way.
To gain some precision, robustness and packed-up volume, the screw is combined with a squared, conical assembling system, which has been proven as the best mechanical setup to lock any motion or degree of freedom between the parts, while also contributing greatly to tensional resistance.
PRE-PREG
With Pre-preg fabrics, the carbon fiber is directly impregnated with epoxy resin by its manufacturer; this guarantees a perfect ratio between epoxy and carbon, and represents the highest quality process.
Quality control is much better and so is the working environment for the people building our foils. Pre-Preg fabrics offer the lightest weight with the best mechanical properties of carbon fiber.
Alu masts 45 > 85 cm
The F-ONE aluminium mast can be used for all disciplines, kite, surf, sup and windsurf.
The profile is extruded with precision from 6063 aluminium block. The shape of its section benefits from our years of experience in kitefoiling to provide the best gliding feel while keeping the strength up and the weight down. It comes with two stainless steel helicoil inserts at the bottom and at the top to fasten the connecting parts and is therefore fully modular. The aluminium mast can be used on every foil of the range and it is very easy to jump from one length to another. A number of parts are available for board connection (Plate, KF, Deep KF, Tuttle).
Carbon masts 85 > 105 cm
The F-ONE Carbon masts provide amazing speed potential with top precision in all conditions.
With their high-performance profile evolving from 1.2 cm thick at the bottom to 1.35 cm at the top, these masts deliver an impressive feeling of glide and top of the range performance. The intricate profile and chord length prevent turbulence and make them very secure and stable at speed. Their elaborate carbon PRE-PREG one-shot molding construction makes sure these masts meet the required demand on torsion and bending stiffness to keep the control of the foil at any moment and especially when pushing hard.
Equipped with a built-in TITAN mast foot, the carbon masts are compatible with all TITAN fuselage our Wings. Available in 65cm length with tuttle head and lighter layup or in 85cm, 95cm and 105 with stiffer layup including some high modulus carbon and a deep tuttle head
Section thickness: 12mm (bottom) / 13.5mm (top)
Section chord: 110mm (bottom) / 135mm (top)
Stab C300
Versatile and progressive, the C300 stabilizer can be combined with any front wings and fits a very large range of practices.
Equipped with generous winglets, the stabilizer blade offers fantastic control with enough surface area to provide full confidence in all situations.
Built in Carbon Composite and designed to be securely mounted on F-ONE fuselages, its profile and angle of incidence were tuned to achieve a very intuitive balance which will help you get your foiling maneuvers in more easily.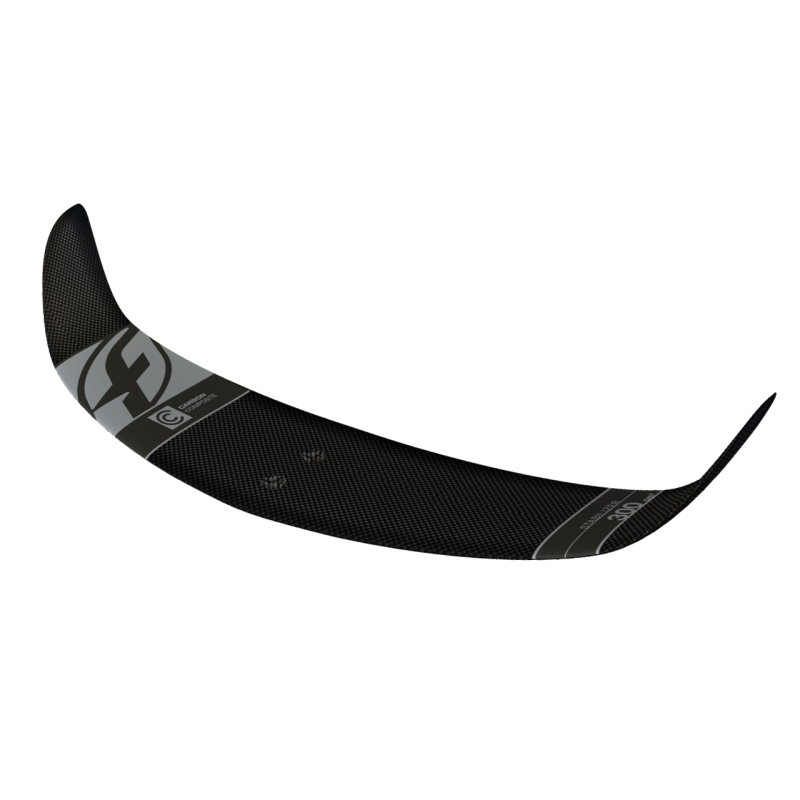 Titan fuselage 60 Kite
The TITAN fuselage 60 is a fuselage that connectes to F-ONE aluminium or carbon masts via a TITAN connection.
It is made of aluminium 6061, CNC machined with high precision and fully anodized. The TITAN fuselage 60 must be fasten to the mast or mast foot using three M6x25mm tapered head screws.
At the forward end, this fuselage can accept all wings of any size with FCD connectors. Once it is plugged in, the front wing must be fastened with 210mm main rod. A stabilizer can be fastened at the back using two M6x16mm tapered head screws . The craddle for the stabilizer was designed to keep the foil in trim when using F-ONE stabilizers.
Length: 60cm
Weight: 0.61 kg
TITAN MAST FOOT
The TITAN mast foot is the connecting part that makes the F-ONE aluminium masts compatible with all TITAN fuselages and wings.
It is made of 6061 aluminium, CNC machined with high precision and fully anodized. To install the TITAN mast foot, it should be inserted into the bottom end of the aluminium mast and fastened with two M6x25mm tapered head screws.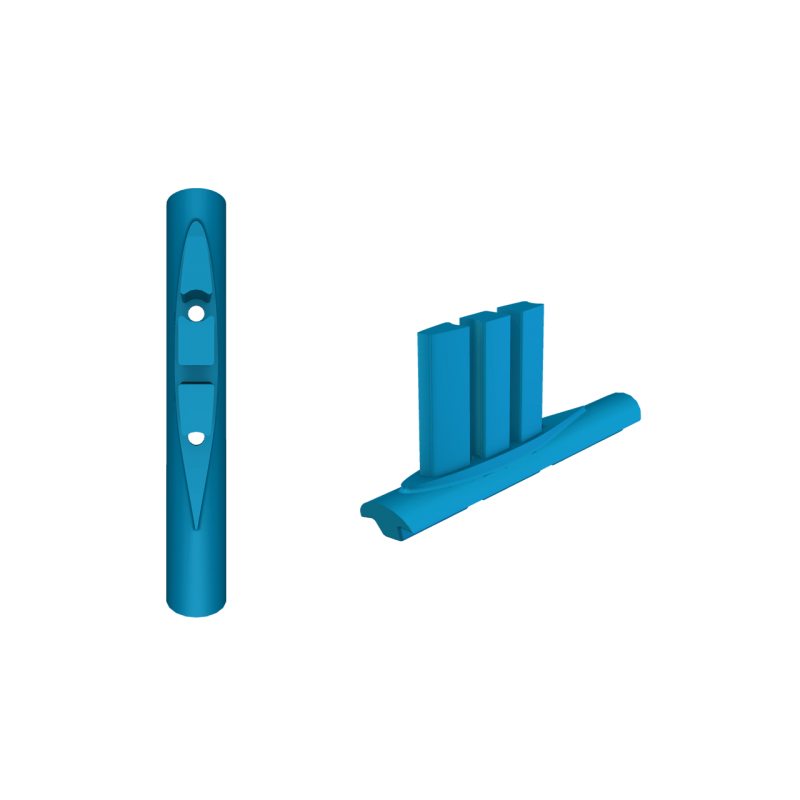 escape 510 INCLUDED EQUIPMENT
EVA COVER
KitesurfDubai.ae is the leading F-one dealer based in Dubai and shipping worldwide.
Shop online for 2020 F-One Inflatable and Foil Kites, Boards, Hydrofoils and accessories. The FOne kite range includes the Bandit and Diablo Kites, as well as the Trax, Acid, Spicy, Unik and Next Kiteboards. 2019 Breeze and FOne Bandit are also available for worldwide deliveries. Free shipping on all F-One Kites, Boards and Bars in the UAE. Free worldwide shipping on F-One Kites and Bars. Reduced shipping rates for F-One Kiteboards to Qatar, Bahrain, Oman, Saudi Arabia, Kuwait, Lebanon, Egypt.